The Quadruple Aim Physician Leadership Retreat
What Graduates are Saying about the Retreat Experience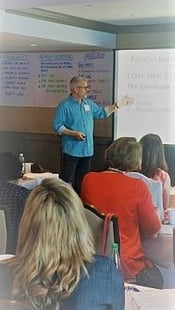 What one graduate had to say at the end of the 12 week retreat follow up series:

"I would like to express a deep and heartfelt thanks for a tremendous experience.
Probably the most concentrated training since residency! I don't think I understood the difference between Training and Education until QAPLR. Appreciate your hands on and personal approach. You really deliver and go beyond any expectations I had. I look forward to continuing the process. WOW -- amazing." ~~ K.L. MD
============
"This gives us stuff we don't get anywhere else. Useful, practical, immediately applicable."
"The connections with other physician leaders is invaluable! The tools are broken down into bite sized actions that make success with utilization extremely likely. The concept of starting with myself and building on that is critical to me being an effective leader and a change agent in my organization. I am excited that my investment in this retreat will benefit my partners and staff."

"Dike is the most honest person/expert I know dedicated to resolving physician burnout. His approach is abundantly pragmatic, deeply motivational and he has built a system that anyone can understand."
[BACK to the Retreat Overview Page]

[ Click Here to Register Now ]
"This was HUGE!! Managing how I will interact with those upstream and downstream to make an impact on wellness. Makes me feel excited to have new skills / tools to use."
"Gives me the tools to start our own burnout committee and implement strategies at our workplace. Also a lot of insight into myself."

"I enjoyed meeting so many like-minded individuals who are fighting the good fight. It was inspiring. I learned most of my own blind spots and really simple things I can do to correct them. I will try to stop Lone Rangering everything, which will reduce my stress and build trust with my team."

"Dike is an amazing presenter and the staff and attendees were awesome. I learned that small things done well, systematically and persistently can have a tremendous impact. I am ready to become a more present and organized leader, beginning with taking care of myself."

"I learned more about myself and recognized that I am in control of my professional life. I will be able to find better balance in dealing with office, hospital and home."
[BACK to the Retreat Overview Page]
[ Click Here to Register Now ]
"I learned to understand personal, team and organizational dynamics and how to manage my boss. This may save my job."

"I learned that there are small changes that can create a change movement in myself, colleagues and the organization."

"This will make me pro-active in looking for and shaping my next job; not just fit myself into a job as-is."

"I will probably stay in medicine thanks to this retreat. I was considering quitting. At the very least, I will run to my next job and not just away from my current one."
[BACK to the Retreat Overview Page]
[ Click Here to Register Now ]
"I am hoping this will strengthen my will to tailor my current job to more closely match my ideal and help me advocate for changes to help the wellness of the faculty on my service as well as help me speak up when changes are contemplated that will negatively affect employee wellbeing."

"I learned so much about myself – my "physician tendencies". Huge gaps in leadership strategy filled. Validation of self-care above all else and how to mediate my own disruptive/ineffective behaviors."

"I have confidence to go back and feel like I am capable of leading productive meetings and it confirms the importance of the culture of TRUST in an organization."

"I loved being on the Seattle waterfront for several glorious days and I will take the "consensus" learning with me everywhere."
[BACK to the Retreat Overview Page]
[ Click Here to Register Now ]
"Insights and tools that are needed for a fulfilling career are not taught in any institution or program. This program shows you what they are and how to use them."

"This sets the stage/context for physician wellness. I would love to have another person in my organization with the same training. This will change how you look at wellness/burnout and give you a blueprint for success."



More Participant Feedback:

"How likely are you to recommend this retreat to your colleagues?" (1-10)
N=36
Average was 9.7
29 rated as a "10"


"In your experience, how does this training experience compare to others you have attended?" N=33
11 rated as "the best training I have ever attended
31 rated as "the best" or "one of the best" I have ever attended = 94%

[BACK to the Retreat Overview Page]
[ Click Here to Register Now ]
============
"I'm the CMO of at small two hospital system, one acute and one critical access.
I had significant doubts going into the training. How was I going to open up to a group of strangers from scattered parts of the country and globe? Not knowing what to expect I was positively amazed. Dike was so personable, believable and genuine. He truly desires to help.
Through careful guidance we delved into deeper and more critical subjects. I felt safe to expose my thought and emotions. Other series I have attended were not as skill oriented or adaptable to individual needs. Dike's engagement is real and he always provides tangible take aways - most of which are easily implemented.
I have learned to take care of myself first and am proactive to situations rather than reactive. When encountering others with possible negative behavior, I find I automatically look for the cause rather than find fault with the individual. That makes a big difference.
Since returning from the retreat, I launched our Physician Wellness group and we are hosting social events. I have instituted an open door approach with my colleagues which allows people the opportunity to be heard without strings in a confidential setting. I also schedule a personal meeting and follow-up with any one of our members who is served with a malpractice suit. I am even playing an active role in wellness with the state medical society and hospital association.
I highly recommend the QAPLR experience and thank you Dike and my fellow retreat colleagues."
Bruce Bertrand MD
VPMA / CMO Heywood Healthcare – Massachusetts
[BACK to the Retreat Overview Page]