by Dike Drummond MD, CEO of TheHappyMD.com

Hello Friend,
I invite you to join a select group of like-minded physician leaders in Seattle, Washington in 2020 - to learn proven tools and share success stories - and bring home better ways to care for yourself and your people.
We Teach the Three Critical Skill Levels to be an Effective Physician Wellness Champion

- Take Better Care of Your People & Yourself
- Build a Culture of Support, Trust and Engagement on Your Teams
- Hard Wire Wellness into Your Entire Organization
In the last two years we have graduated 167 Physician Wellness Champions from this retreat where we teach a full library of skills learned from our comprehensive experience preventing physician burnout:
-- Over 3000 hours of one on one physician coaching experience
-- Training over 40,000 doctors to recognize and prevent burnout
-- Working with over 175 healthcare organizations, associations and societies
-- On four continents to date
============

"This was HUGE!! Managing how I will interact with those upstream and downstream to make an impact on wellness. Makes me feel excited to have new skills / tools to use."

============

"Gives me the tools to start our own burnout committee and implement strategies at our workplace. Also a lot of insight into myself."

=============
Here's how one of last year's participants felt about her retreat experience:

MORE TESTIMONIALS AT THIS LINK
====================

CLICK to Download the Complete Retreat Overview
========================

We know you are a special kind of physician leader.

You really care about your people or you would not be looking at this page in the first place. You see the burnout all around - you can feel their pain - and you are driven to do something to take better care of your colleagues.
You understand the common sense power of the Quadruple Aim - that the highest quality Patient Care depends on having healthy, happy, engaged physicians and staff.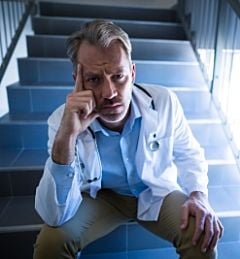 You are probably stuck in the vise of the Big Squeeze too:
Getting pressure from the C-Suite above - on quality, performance and profits
And pressure from your over-stressed doctors below - as they struggle to keep up with the daily patient and documentation chores

You know how difficult it can be to live the Quadruple Aim when the C-Suite mandates and people's human needs don't align. If only there were simple tools to lower stress and build balance for yourself and your people.
For seven years now, we have been building and testing that Quadruple Aim Leadership Toolkit.
We now have over 3000 hours of one-on-one physician coaching experience and have trained over 40,000 physicians for 175 corporate clients to date. This experience has allowed us to build and test hundreds of tools to lower stress, prevent burnout and become a much more effective leader.
for Individual Doctors

Physician Leaders

and

Healthcare Organizations of any size
Now you can join us in Seattle to learn & practice these proven tools and begin to lead with the power of the Quadruple Aim.


============

"Dike is the most honest person/expert I know dedicated to resolving physician burnout. His approach is abundantly pragmatic, deeply motivational and he has built a system that anyone can understand."


Download the Complete Retreat Overview

==============
Ideal Retreat Participant:
The Retreat was designed specifically for physicians in a "straddle leader" position – seeing patients AND holding a designated leadership position at the same time.
AND it is ideal for any physician leader in any leadership position in any healthcare organization.
This double part-time job description puts straddle leaders at unique risk for their own burnout and hamstrings their ability to be an effective leader. This is why we designed the training so each day takes you to a new and deeper level.
Day One
- Personal tools to prevent your own burnout
Day Two
- Leadership tools to support your direct reports and teams
Day Three
- A four-part strategy to hard wire the Quadruple Aim into your entire organization.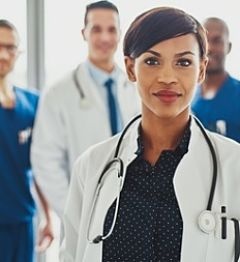 You Will:
Learn how to recognize and prevent burnout in yourself and your colleagues. Physician Leaders are at special risk for burnout for a simple reason: you were never taught about burnout or leadership in your medical education. Learn simple tools to take much better care of yourself and your people.
Learn how to run better meetings, manage your boss, build more life balance, delegate effectively, deal with disruptive colleagues and much, much more.
Build your personal burnout prevention strategy and become a mentor and role model to your people. So often physician leaders actually model burnout for their people - exhausted, overwhelmed and distracted. Don't let this happen to you.
Learn simple methods to build a culture of trust and engagement on your teams - even with your busy schedule. The fundamental currency of leadership is TRUST. Learn how to build trust with your people in every conversation.
Stop having to do all the work yourself -- learn how to get your people on board and pulling their weight right from the start of your projects - without having to order them around
Learn a burnout prevention strategy for your whole organization - just four parts, lead by a single committee - to install the Quadruple Aim in your culture.
We will also build an ongoing support community of like-minded leaders so you will never feel like you are alone in the trenches again. We will have a weekly group coaching phone calls and a private Facebook page for a full three months following the retreat. You will be able to post questions and request support 7 days a week and our entire group will pile in to help out.
====================

Here's another of our Retreat Participants

[Full Retreat Testimonials Here ]

"The connections with other physician leaders is invaluable! The tools are broken down into bite sized actions that make success with utilization extremely likely.
The concept of starting with myself and building on that is critical to me being an effective leader and a change agent in my organization. I am excited that my investment in this retreat will benefit my partners and staff."

Download the Complete Retreat Overview

===================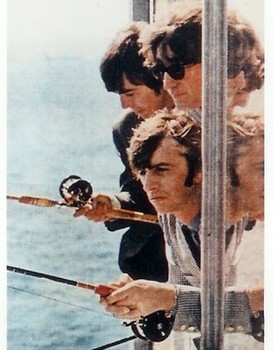 Our Retreat Venue is the Edgewater Hotel on the waterfront in beautiful Seattle, Washington
This uber hip venue is right on the water in downtown Seattle. Mount Rainier is on one horizon, the Olympic Mountains are on the other and the fabulous Pike Place Market is just 3 blocks away.
This is the venue where back in the day, the Beatles fished out of one window (that is a real picture) and Led Zeppelin threw a couch out of another.
The Space Needle is just up the hill and Vancouver and Victoria, British Columbia are just a short drive, boat trip or float plane ride away.
The food is great -- and there is plenty of it -- and it serves as a convenient home base to explore the rest of the city or the region.

In the afternoon we will be finished by three with plenty of time for case presentations and Q& A ... and the rest of the day and evening is free for you to explore all the riches of Seattle and the Puget Sound.

We strongly encourage you to take a few extra days - especially after the retreat - and turn this into a world-class getaway.

The Retreat is Certified for 13 Hours of CME Credit by the AAFP.