Stop Physician Burnout
Bulk Book Discount Page
SAVE $10 on Each Book With the Form Below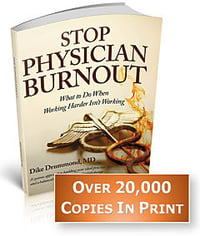 Stop Physician Burnout - what to do when working harder isn't working is the reference text to burnout prevention for the modern physician.
Bulk orders are $15 each compaired to the retail price of $24.97.
You SAVE $10/book on any quantity.
Fill Out the Form Below for a Complete Price Quote

including taxes and shipping right to your door.
(Your information is completely confidential and never shared with anyone ... Period)