Dirty Little Secret #5
Leaders can burn out their followers
"People don't quit the company. They quit their boss."
This classic management mantra is as true in healthcare as any other industry. Now we have research proof clueless or clumsy Physician Leaders can burn out their teams too. Don't let that be you.
KEY LINKS to Learn More:

CLICK HERE for our analysis of the study mentioned in the video


CLICK HERE for the Stress vs. Performance Curve Training mentioned in the video
CLICK HERE for our Corporate Support Services Page
---
Are you ready for the Quadruple Aim Physician Leadership Retreat?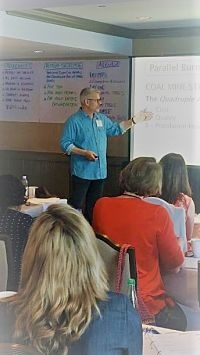 The Skills and Support to Become an Effective Wellness Champion for Your People.

In three days, we will share everything we have learned working with hundreds of physician leaders at all levels in all sizes of healthcare organizations. These are the essential skills of building a culture of support and engagement -- without burning yourself out in the process.

31 hours of CME

216 Wellness Champions trained to date

Registration is limited to a small group of only 20 like-minded physician leaders

We provide 8 weeks of comprehensive follow up support to keep you on your action plan.


CLICK HERE to learn more and lock in your seat


Learn how to prevent your own burnout when you are in a "straddle position" - seeing patients AND being a physician leader


Build your personal burnout prevention strategy and become a mentor and role model to your people


Learn how to recognize burnout in your people and reach out to support them effectively


Learn authentic leadership skills to build a culture of trust and engagement on your teams


Learn how to lead by asking questions and stop having to do all the work yourself


Let us show you a simple proactive burnout prevention strategy for your whole organization


We will also build an ongoing support community of like-minded leaders so you will never feel like you are alone in the trenches again
AND experience true rest, relaxation and rejuvenation for yourself in the only downtown waterfront hotel in Seattle. Take a couple extra days off either side of the retreat and you can build a world-class vacation in a jiffy.


CLICK HERE to learn more and lock in your seat



---
---

That's all for now.
If you have any questions, suggestions or would like personal support ...
- Click Here to contact me directly

- OR email us at thehappymd@gmail.com

- OR call us at 360-262-4971



Keep breathing and have a great rest of your day,

Dike
Dike Drummond MD
www.TheHappyMD.com
BACK to TheHappyMD.com HOME PAGE