Dirty Little Secret #2
Leadership increases your personal risk for burnout
If you thought leadership would be easier than seeing patients ... well, we both know that isn't true now don't we? If you are in a "straddle position", your risk of burnout is doubled. Yikes!
Watch Your Email for the next Dirty Little Secret Video Lesson


---
---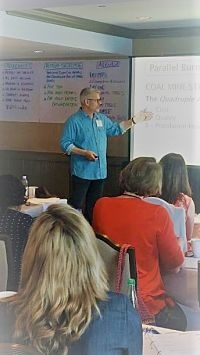 The Antidote to the Dirty Little Secrets is our Quadruple Aim Physician Leadership Retreat.
The Skills and Support to Become an Effective Wellness Champion for Your People.
Learn how to hard wire wellness into your own personal practice, your teams and your entire organization in a small group of only 40 like-minded physician leaders.
216 Wellness Champions trained to date

31 hours CME

8 weeks comprehensive follow up support so you hit the ground running



CLICK HERE for the Complete Retreat Brochure and our 2021 Delivery Dates


---
---

That's all for now.
If you have any questions, suggestions or would like personal support ...
- Click Here to contact me directly

- OR email us at thehappymd@gmail.com

- OR call us at 206-430-1905



Keep breathing and have a great rest of your day,

Dike
Dike Drummond MD
www.TheHappyMD.com