The Manage Your Boss Worksheet - FREE Report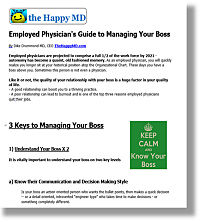 How in the world can you get what you need for your Ideal Practice when you are not the boss?
When you take your first job as an employee it can feel like you have been thrown to the wolves, because they don't teach how to Manage Your Boss in residency.
You are simply not prepared for life as a worker bee in the middle of a large bureaucracy.
The Manage Your Boss Worksheet contains a step-by-step process to navigate a bureaucracy of any size and manage your relationship with your boss.
ENTER YOUR EMAIL BELOW for Instant Access