Next Time Be Sure to Ask These 3 Questions BEFORE You Bring a Burnout Speaker to Town
This is how you screen for authenticity, experience and impact.
1) Tell me about your clinical experience.
If they are not a doctor or have very limited clinical experience, do you really want to stand them in front of your people? Have they earned the right to teach a room full of your doctors?
Do they understand what it is like to survive medical school, residency, fellowship and an active practice with family and a life and everything? Have they walked in a doctor's shoes long enough to understand the journey at a cellular level?
2) Tell me your burnout story.
If they don't have one or more personal episodes of burnout and a functional recovery, or are not willing to tell you about them, what's the point?
If they are a doctor and tell you they have never been burned out a day in their life, please stand up and walk away. That is a stone cold lie.
3) Tell me about your experience helping burned out doctors to recover – the experience that you will draw on when you make recommendations to my people.
I know it is hard to believe, but there are a number of people speaking about burnout who have no experience working with burned out doctors one-on-one.
They may have done a very extensive literature review or participated in the design, data collection and analysis for a few studies, but have NEVER rolled up their sleeves and helped anyone come back from an episode of career-threatening burnout. They know about the research, but don't know what it is like to help someone in burnout.
Will they be teaching your people about what they have actually done - and how it has worked in dozens of doctors in all specialties?
OR will they simply be talking ABOUT the state of the research and the intricacies of statistical analysis -- taking your check and hopping on the next flight home?


============


Here is the true tragedy
If you bring in a speaker who talks only ABOUT the research, it destroys your people's morale and makes everything worse. They come to your event hoping for something – anything – to feel better and leave empty handed – again.
Soon they give up on the possibility of anyone who "lectures" on burnout has anything useful to say.
Then they give up on the chance that positive change is even possible - and tell their children not to go into medicine.


Don't let this happen to you (again).
============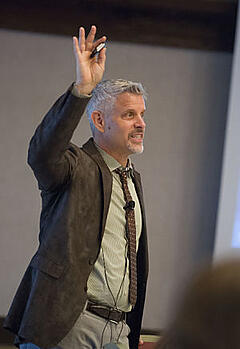 Here are my personal answers to the three questions above
1) Clinical Experience
Mayo Med School class of 1984

Family Practice Residency in the UC Davis system in Redding, CA.

10 years in full service family practice and member of the leadership team of a 40 doctor multispecialty group.

Admitted all my own patients.

Delivered 500 babies.

Over 35,000 face to face patient encounters.
2) Burnout Story

Both are here and I tell both of them in the first 10 minutes of each of my live training presentations.
3) Experience with burned out doctors
Since launching TheHappyMD.com in 2011
I have over 2000 hours of one-on-one coaching experience with several hundred burned out doctors and physician leaders in all specialties.

I have trained well over 20,000 physicians in live settings for over 60 corporate clients in the USA, Canada and Saudi Arabia.

I designed and hosted 5 years of Physician Wellness Retreats in our home base of Seattle WA.

Wrote the book "Stop Physician Burnout – what to do when working harder isn't working" which has sold over 25,000 copies.

Created the world's first burnout prevention smart phone app.

Created the research-proven One Minute Mindfulness Online Training Program for physicians.
I PROMISE
You and your people will leave with a new awareness of the symptoms and causes of burnout.
I will teach you tools tested in my own life - and the lives of hundreds of my coaching clients and retreat participants - that are proven to work in the real world.
You will learn how to lower your stress levels, build more life balance and a more Ideal Practice.
You will leave with a written action plan for a next step.
My team and I will support you after the event as much as you wish – either as an individual or a leader in an organization.
=============
That's all for now.
Keep breathing and have a great rest of your day,

Dike
Dike Drummond MD
CEO, TheHappyMD.com