TAKE BACK YOUR PRACTICE with ...
The Burnout Proof MD
Physician Support Ecosystem
3 Distinct Layers of Physician Support from our 12 year, 40,000 Physician Experience
- PROVEN TOOLS - Our 5 Top Online Trainings for Physicians
- WEEKLY COACHING - 2 Hours Group Coaching on ZOOM - Every Week
- A COMMUNITY of Like-Minded Physicians Who Have Your Back
In our Private, Physician-Only, Members-Only Support Website
- AND Over 100 Units of CME !
WATCH the ECOSYSTEM OVERVIEW and TAKE BACK YOUR PRACTICE Training Video Replay BELOW
Webinar recorded 1-12-2023 with Jim Dahle MD, CEO of WhiteCoatInvestor.com


Webinar Table of Contents:
>> Introduction
1:31 >>Life insurance, Disability insurance and Burnout Insurance = BurnoutProofMD
4:03 >>Webinar Agenda
4:45 >>Dike Drummond MD Bio and Burnout Prevention Experience of over 40,000 doctors
8:50 >>Don't shoot the messenger
10:13 >>Angels singing
13:06 >>The Lightworker's Fork in the Road
5:10 >>Burnout has nothing to do with batteries being run down + Your 3 Energy Bank Accounts
22:44 >>Burnout is Not A Problem – there is no Solution
26:40 >>Canary in a Coal Mine
28:05 >>Burnout's Highest and Best Use
30:00 >>Always be building a more Ideal Practice + 3 Step Ideal Practice Generator Process
37:32 >>Burnout Proof MD and its 3 Layers of Physician Support – Training / Coaching / Community
44:25 >>Guided Tour of the Online Community Support Site
47:53 >>Burnout Proof MD Member Testimonials
48:35 >>Burnout Proof MD Features and Pricing
51:23 >>Question & Answer with Jim Dahle MD, CEO of WhiteCoatInvestor.com
Get Started Today
YOUR PERSONAL ECOSYSTEM ALL-ACCESS PASS
For ONLY $300/month
Or $3000/year (Save $600 over monthly payments)
[NOTE: This is a legitimate use of CME or Professional Development Funds
and a tax deductible business expense]


USE THIS LINK To REGISTER NOW
for Immediate Access to the Full Burnout Proof MD Ecosystem

COME IN FROM THE COLD and JOIN OUR TRIBE:


I've found a group of friends that I enjoy connecting with. To hear their stories and struggles with the practice of medicine is eye-opening for me. Dike is supportive, encouraging, straight forward and doesn't hesitate to redirect you if you need it. I've become a better person, physician and I hope, a better leader because of my participation in Dike's coaching. For that, I'm most grateful.
~ J. B. MD


On the weekly calls we understand what healthy communication and group dynamics feel like, the power of other peoples stories and journey's, and that it is OK to be not OK. Most of all, we are all learning and evolving by sharing our experiences in real time and real context. And it is lots and lots of fun and VERY authentic - no B.S. allowed.
~ K.L. MD
The BurnoutProofMD Physician Support Ecosystem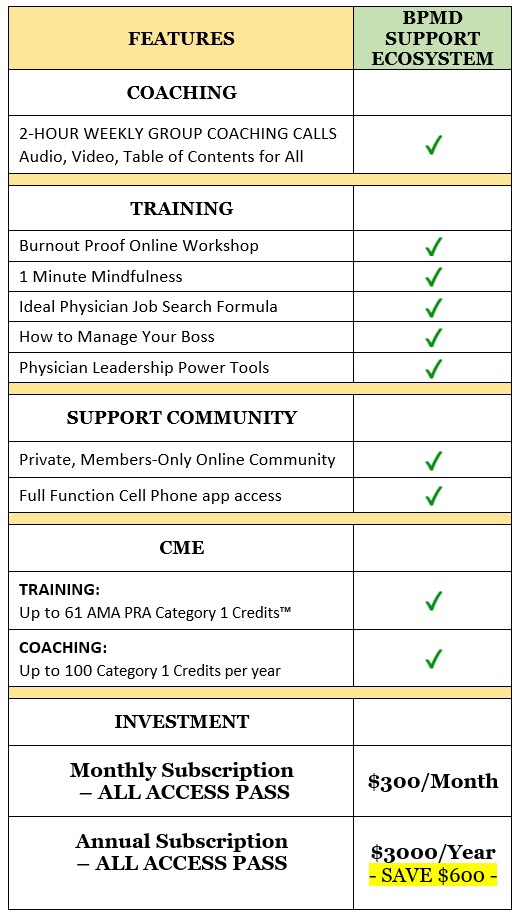 What Our Coaching Clients Are Saying:

"Dike opened my eyes to new ideas, new resources, and challenged me to permit myself to dream about my ideal life and career. He taught me several ways to deal with my current stress by making small steps starting with my reactions to competing priorities and time demands. I see and feel a light at the end of this tunnel. I am extremely grateful."
~ Michelle R. MD
~~~~~~~~~~~~
"Knowing that Dike is a doctor himself, I really felt he understood where I was coming from. I could trust and value his judgment, not to mention how nice it was to feel true empathy and his abounding positive attitude to helping me help myself."
~ Amy R. MD
~~~~~~~~~~~~
"Dike's compassionate skill lead me to both believe in, and achieve a transition to a life and work that provides meaning and enduring happiness."
~ J.M. MD
~~~~~~~~~~~~
"I had no idea I was in such "good company" as an alienated physician. Dike showed me how to be more mindful, how journaling helps to cut down on my worries and how to STOP doing old things so I could START to make changes."
~ Tom H. MD
~~~~~~~~~~~~
"I appreciate you for everything we have been through, and all of the support and training you have provided me. But most of all, for being there through the roughest time of my life these past 7 years. You have served as a mentor and a friend."
~ Anonymous