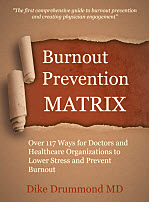 Physician Burnout Prevention MATRIX
FREE Report
Over 117 different ways to lower stress
and prevent burnout inside
A game plan for Doctors and Organizations to work together in a Balanced Approach to Burnout Prevention
With 1 in 3 doctors suffering from symptomatic burnout on any given office day, it is high time to survey for and address burnout in a comprehensive solution.
Happy, healthy doctors are the only lasting foundation for patient satisfaction and quality care. The most successful healthcare organizations in the near future will be those who take the best care of their doctors and staff and are actively preventing burnout using multiple coordinated methods.
Here are over 117 ways to get started.